Eiffel Tower re-opened following Paris bomb scare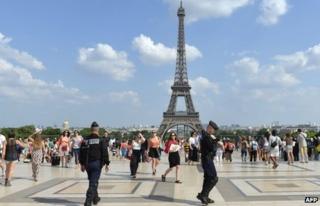 The Eiffel Tower in Paris was evacuated for two hours on Friday afternoon following a bomb alert.
The tourist hotspot was re-opened to the public at 1630 local time (1430 GMT) after police gave the all-clear.
The 324-metre-high (1,062-foot) structure is frequently subjected to bomb alerts but the warnings are usually found to be hoaxes.
Full evacuations usually occur only a couple of times a year, the Reuters news agency reports.
Built in 1889, the monument is visited by seven million people yearly. Up to 30,000 visit each day at the peak of summer.
Eyewitness accounts on Twitter suggested the French army had gone to the scene, newspaper Ouest France reported.