Spain train crash: All rail safety rules reviewed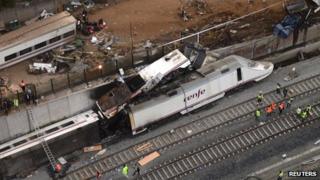 The Spanish government says it will review safety measures on all railway lines in response to the derailment which killed 79 people last month.
Public Works Minister Ana Pastor said the skills and knowledge required of train drivers would also be reviewed.
The speed limits and signalling on all lines will be checked for any deficiencies, she told a panel of MPs.
Train driver Francisco Jose Garzon Amo is under investigation. He has not been charged over the Galicia crash.
The derailment on 24 July, near Santiago de Compostela in north-west Spain, also left about 170 people injured.
Judicial authorities have said the train was travelling at 192km/h (119mph) - more than twice the speed limit - on the bend where it derailed.
"Everything is under review, everything is subject to proposals for improvements," Ms Pastor said.
Extra technology
Her ministry is considering installing beacons to alert drivers about sections of line which have significant speed reductions. Another proposal is to use satellite technology to improve signalling.
The current psychological and physical requirements for train drivers will be reassessed, the minister said.
On Thursday the head of Spain's Renfe public railway company, Julio Gomez-Pomar, said the crew of the train had not reported any problems before the crash.
He told the parliamentary panel that all normal security procedures had been followed and that the driver had not been on duty more than the standard number of hours, having just returned to work after two days off.
The train's "black box" data recorder has revealed that the driver was talking to a colleague on his work phone and consulting documents just before the derailment.
All eight carriages careered off the tracks on the express route between Madrid and the port city of Ferrol on the Galician coast.