Toddler and mum mauled in Dublin zoo tapir attack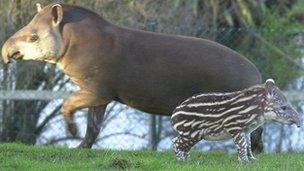 A two-year-old girl and her mother are recovering in hospital after being mauled at a zoo in the Republic of Ireland on Wednesday.
The toddler was attacked by a Brazilian tapir during a supervised visit within one of the enclosures at Dublin Zoo.
The child's mother was also injured as she went to save her daughter. The pair were given first aid on site.
Dublin Zoo has described the incident as "an unfortunate accident" and said an investigation is under way.
It is understood the little girl has undergone surgery at Temple Street Children's Hospital after suffering deep abdomen and arm injuries.
Her mother was treated at the Mater Hospital.
A tapir is a usually docile creature, which looks like an anteater and is a similar size to a pig.
A spokesperson for the zoo said visitor and animal welfare and safety was of paramount importance.
"Dublin Zoo would like to underline this was very much an isolated incident.
"We would also like to emphasise that our immediate concern is the health and wellbeing of the visitors involved in this accident."
In June, staff at Dublin Zoo celebrated the birth of a tapir to mother Rio, which is believed to have attacked the child.
Related to rhinos and horses, tapirs have a long, flexible snout that helps collect leaves, shoots, fruit and small branches to eat.
While said to be docile, they have strong jaws and sharp teeth which they use to defend themselves if they believe they are under threat.