Gibraltar row: Tough talking on the Rock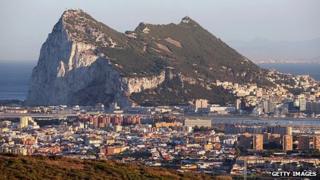 With a spat over Gibraltar souring relations between the UK and Spain, the BBC's Tom Burridge talks to some of those most affected by the dispute.
You won't find anyone more Gibraltarian than straight-talking, 51-year-old taxi driver John Charles Guy.
"First of all I feel British. But then Gibraltarian," he says. "We have an allegiance to the Queen unparalleled by any other."
"Could Gibraltar ever be Spanish?" I ask.
"I'd rather be dead," is his very blunt reply.
Ironically, John was not born on the rock. He was born in Scunthorpe, but moved here when he was just nine.
But he remembers vividly when relations between Gibraltar, Britain and Spain, were much worse than they are now.
"I had to wait until I was 18 to be able to roam around Europe freely," he says in reference to the period when Gibraltar's border with Spain was closed by then Spanish dictator Francisco Franco in 1969.
The border only fully reopened in 1985.
When tension has flared between Gibraltar and its Spanish neighbour, John describes the British flag as a "warm blanket" which makes him "feel safe".
Spain might contest British sovereignty over Gibraltar, but John is unequivocal.
"You cannot conquer us and you can't give us away."
Diversionary tactic?
It was the Spanish Crown that gifted Gibraltar to Britain in the peace treaty of Utrecht in 1713.
Relations hit a low point with the closure of the border under Franco, but after the Spanish dictator's death in 1975, relations between Gibraltar and Spain gradually improved.
However, many people in Spain - and in particular those on the right of Spanish politics - maintain that Gibraltar should be handed back.
Critics of Spain's current centre-right government on either side of the border question the timing of the current row over fishing rights in the disputed waters near Gibraltar.
Could Spain's governing Popular Party be trying to divert attention from a corruption scandal and the economic crisis? It is an accusation that the Spanish government strongly denies.
Away from the controversy over who is to blame for this crisis, the increased checks at the Gibraltar-Spain border affect everyone living in the area, regardless of their nationality.
'Indignant'
Carlos Huertas is Spanish and has worked in Gibraltar for 25 years. He lives in La Linea de la Concepcion, the town on the Spanish side of the border.
Recently it has taken him two hours to commute into work when it should take just 15 minutes.
Then there is Zac who describes himself as "indignant" over the extra checks and recent delays at the border.
He was born in Morocco but now has Spanish citizenship.
He lives in La Linea de la Concepcion where unemployment is 36%. Over the divide in Gibraltar, unemployment is almost non-existent.
"The only way to have money in my pocket is for me to come to Gibraltar," he says.
Roy Walker works at his family's fish and chip shop in Gibraltar's main square.
I ask: "Is the dispute just hot air?"
'It may be hot air, but it affects people's everyday lives and it affects the Spanish (commuters) more than the Gibraltarians," he says.
Roy's sister is Elizabeth Walker. She was born in Gibraltar but was brought up in the UK and now lives over the border in Spain.
"I'm not Gibraltarian, but I'm very pro-Gibraltar," she says.
However her two children go to school on the rock, and Elizabeth says they are "very Gibraltarian".
Despite Prime Minister David Cameron's phone call this week with his Spanish counterpart Mariano Rajoy, and his comments condemning the delays at the border, many people in Gibraltar believe that the British government should do much more.
"They need to pull their finger out," says Elizabeth.
Taxi driver John Charles Guy agrees and says the UK government is most at fault for the recent crisis.
He isn't against the idea of Gibraltar going it alone.
"Let's say we don't want to be British, well in that case, we want to be Gibraltarians. Give us our independence. We stood up for ourselves without any help from anybody over all these years."