French farmers smash eggs in fury at costs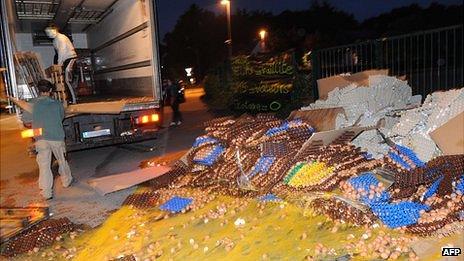 French poultry farmers have smashed 100,000 eggs outside a tax office in Brittany in a protest over low prices.
The farmers in north-western France threatened to continue smashing 100,000 eggs daily. They say that equates to 5% of Brittany's daily egg production.
They want France's total egg production to be cut by 5% to help raise prices.
The farmers' costs have risen partly because EU animal welfare rules require bigger cages for hens. The protest took place in Carhaix-Plouguer.
An EU directive that took effect on 1 January 2012 requires that all laying hens must be kept in "enriched cages" with extra space to nest, scratch and roost.
The French farmers say they are now paid 75 euro cents (£0.60; $1) for a kilogram of eggs but their production cost is 95 cents, the AFP news agency reports.