Swedish police cleared over shooting that sparked riots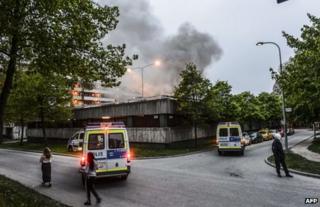 Prosecutors in Sweden have closed the inquiry into a police shooting which sparked Stockholm's worst riots in decades this May.
Chief Prosecutor Eva Finne found a police officer had acted in self-defence when he shot dead a knife-wielding man in the suburb of Husby.
There followed a week of arson attacks and stone-throwing in suburbs with large immigrant communities.
The violence raised questions about integration policy in the country.
More than 400 reports of crimes were investigated by the police though 90% of cases were dropped, according to Swedish Radio.
In her report, Ms Finne said police had been called to Husby because a 69-year-old mentally ill man there had threatened a person with a large knife.
They found the man had locked himself up in his apartment together with his wife.
After several attempts to communicate with the man failed, police entered the apartment, fearing for the woman's safety, and told the man to drop the knife.
They used pepper spray, distraction grenades and fired a warning shot into the floor before an officer shot the man in the head as he lunged at him, Ms Finne added.
"There is no longer any reason to presume that a crime has been committed," she said. "The fatal shot was fired in self-defence."
Some people argued the Stockholm riots were a response to discrimination and relatively high unemployment in a country once famous for equality.
Others contended the unrest was a simple matter of criminality, where parents had failed to exert enough influence on their offspring.