Strike at Dublin Bus is suspended for talks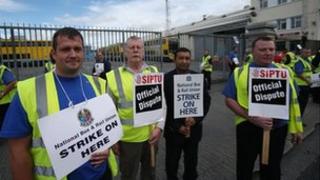 A strike at Dublin Bus, which stopped all services for three consecutive days, has been suspended.
The company said a "full bus service will operate across Dublin city" on Wednesday after the industrial action was suspended on Tuesday evening.
The strike began at midnight on Saturday, amid a dispute over a 11.7m euros (£10.16m) cost-cutting plan.
Talks between Dublin Bus management and unions are due to take place at the Labour Court on Wednesday afternoon.
The Irish state broadcaster, RTÉ, said the three-day strike has cost the company about 1m euros (£867,000) in lost revenue and had affected "hundreds of thousands of commuters". Striking staff have also lost three days' wages.
Dublin Bus said it was suspended the implementation of its cost-cutting plan to allow the Labour Court talks to proceed.