Silvio Berlusconi stands by broad coalition with left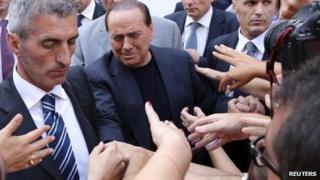 Hundreds of supporters of Silvio Berlusconi have gathered outside his Rome mansion to rally against his recent sentencing for tax fraud.
Some of his backers had wanted him to force an election to end the uneasy coalition between his centre-right PDL party and the left-wing PD party.
But the ex-prime minister said the current Italian government "must forge ahead" with its economic programme.
The Supreme Court upheld a custodial sentence for Mr Berlusconi on Thursday.
The 76-year-old is due to serve one year in custody starting from October.
Under Italian law, people over the age of 75 rarely go to prison, so he is likely to be held under house arrest or given a community sentence.
Although Mr Berlusconi has been hauled before the courts dozens of times, Thursday was his first definitive conviction with no chance of further appeal.
The court ruled that his Mediaset business empire had avoided taxes by inflating the price it had paid for film distribution rights.
Mr Berlusconi's People of Freedom (PDL) party organised the rally with the stated aim of huddling around their leader and offering him support.
"Your closeness and your warmth comfort me after all the pain and suffering of the past few days," he said.
He gave his support to the current coalition, saying: "We have said loud and clear that the government must go forward to approve the economic measures that we asked for and were agreed.
"What drives us is not our personal interests. Always the interests of everyone and of our Italy come first."
Italy is in its longest recession since World War II.
Mr Berlusconi, who has dominated Italian politics for two decades, has faced a string of trials since leaving office in November 2011.
In separate trials he has been convicted of paying for sex with an under-age prostitute, and arranging for a police wiretap to be leaked and published in a newspaper.
Appeals are pending in both of those cases.
Two other tax-evasion cases expired under statutes of limitations.