Hollande plans new aid for France's deprived suburbs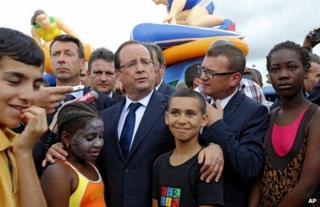 The French government has unveiled a new bill by President Francois Hollande to help the country's deprived suburbs, the scene of unrest in recent years.
Some 5bn euros (£4.4bn; $6.6bn) of direct state investment would be injected next year into projects to generate jobs and improve housing.
Mr Hollande visited the troubled Paris suburb of Clichy-sous-Bois this week.
He acknowledged that the "slow-burning fuse" of suburban unrest was still burning, but said it could be stopped.
"While this fuse burns slowly, we can stop it with projects that are long-term, very long-term,'' he said.
The riots of 2005 began in Clichy, rapidly spreading through run-down housing estates across the country.
Such areas are home to large populations of recent immigrants and their descendants, often from France's former Muslim-majority colonies in North Africa, and have long challenged the country's social cohesion.
Rioting broke out two weeks ago in another Paris suburb, Trappes, after the arrest of a Muslim man who allegedly tried to strangle a police officer when police told his wife to remove a banned full face veil.
No-one for an instant believes the new initiative will resolve the tensions, but the president clearly wants to signal that he sees the suburbs as a priority, the BBC's Hugh Schofield reports from Paris.
'New tools'
Francois Lamy, the minister looking after the Socialist government's new initiative, told AFP news agency that the bill would "reform the tools of urban policy".
Credit would be concentrated on the 230 areas most in need.
Target areas would be redefined in terms of income, Mr Lamy said, in contrast to past schemes which considered such factors as property ownership, single-parent families and unemployment.
In Clichy, population 30,000, the jobless rate is 22.3%, or twice the national average.
French governments of the left and right have been injecting funds into the deprived suburbs for nearly four decades.
In October 2005 the deaths of two Clichy teenagers sparked three weeks of looting and car-burning in housing estates across France.
Mr Hollande's bill is expected to go before parliament in the autumn.