Berlusconi: playing in fading light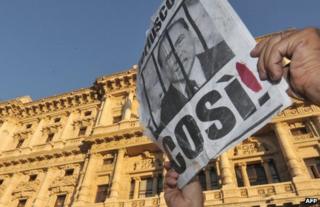 Within hours of receiving his first definitive conviction, Silvio Berlusconi was back playing a familiar role, that of victim and martyr. In a video message he said, "No one can understand the burden that I have carried, the level of aggression that has been put upon me as a result of serious accusations and trials that had no basis in reality." He lashed out at the judiciary as being "uncontrolled and uncontrollable".
Berlusconi never goes quietly. He is always centre-stage. Even today so much of Italy's political life revolves around him. Even after the Court of Cassation upheld his sentence for tax fraud he will be looking for room to manoeuvre. Without doubt he is damaged and weakened but it remains unclear what influence he will be able to wield.
Even though the court upheld his prison sentence he is most unlikely to serve any period in jail because of his age. He will be 77 in September. Instead he could face a year under house arrest or doing community service. He has already dismissed the latter option as being "for criminals". He would be unable to campaign but, behind the scenes, he could still be politically active.
What he feared most from the Court of Cassation was the judges supporting a five-year ban on his holding public office. That did not happen. The ban had already been reduced to three years and that will now be reviewed again. That buys Berlusconi some time in which he can remain in the Senate and head of his party.
The reluctance of the judges to settle this question has led to speculation that political calculation informed their decision. An immediate ban on holding public office might have provoked some of Berlusconi's supporters into bringing down the government.
His party is in a coalition with the centre-left. A collapse of an already fragile government could have plunged the third-largest economy in the eurozone into instability. Early indications are that Berlusconi does not want to bear the responsibility of damaging Italy when it is struggling to emerge from its worst recession since World War II.
Weary nation
It may also be that the Italian people are losing their interest in the long-running Berlusconi drama. It was interesting to see how few people assembled outside the Court of Cassation to await the verdict. The economic crisis is overwhelming. To cite just two statistics: 15% of the country's industrial capacity has been lost in the past few years and the car industry has declined by 40%.
But Italy's governing fragile coalition has been further weakened by this verdict. Some on the centre-left have made it clear they do not want to be in coalition with a party led by a convicted criminal. Some politicians have asked Berlusconi to resign from the Senate "out of respect for parliament". The leader of one of the smaller parties has said that it is not possible for the coalition to continue.
The future of the centre right is clouded with uncertainty. Berlusconi is talking of reviving Forza Italia, the party with which he first came to power. Some politicians on the right are already looking to the future without the guiding hand of the man who styled himself Il Cavaliere. It is even possible the centre- right might fracture.
The president and the prime minister have appealed for calm but there is a sense of impermanence about a government which, in any event, grew out of political stalemate.
Italy needs deep reform. The anti-establishment vote at the last election underlined the frustration with a self-serving political caste. The legal system is creaking. The backlog of civil lawsuits amounts to 5m. Italy ranks 73 on the World Bank scale for ease of doing business.
Berlusconi is still playing but in fading light. The one-time cruise ship crooner who has dominated and shaped political life in Italy for 20 years is diminished. But his drama which has sucked so much of the oxygen out of Italy's public discourse still has a few acts left.