AIB makes losses of 754m euros across Ireland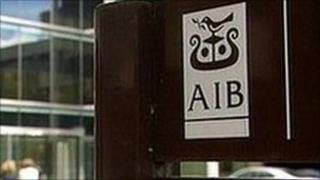 Allied Irish Bank (AIB) has made a loss of 754m euros (£650m) across the island of Ireland.
The figure is down from more than 1bn euros (£0.87bn) for the same period last year.
AIB chief executive David Duffy said one of the biggest issues for the bank was mortgage default.
The bank said that such problems were "particularly evident in Northern Ireland".
Mr Duffy said the bank was prepared to work with people who were in genuine difficulty.
"We are making it very simple," he said.
"Where we get into these restructurings there are individuals who clearly will not be able to pay the amount back regardless of the term or the model, we will do and have done write-offs on that basis.
"We have done a considerable number of those over the last six months and we expect to continue that, but really on an individually merited basis."
AIB's core UK unit, which includes First Trust, made a pre-exceptional profit of 5m euros (£4.35m) compared to a 69m euros (£60m) loss in the same period last year.
AIB UK saw gross loans to customers drop by £0.4bn (5%) since December 2012 as repayments exceeded new lending.
However, the bank's UK residential mortgage book is still getting worse; almost 40% of owner occupied loans are now delinquent and for buy to let, it is more than 50%.
For AIB UK, the level of loans greater than 90 days in arrears and/or impaired increased to 12.6% at June 2013 from 10.9% at December 2012.