Ex-Italy PM Silvio Berlusconi criminal appeal to finish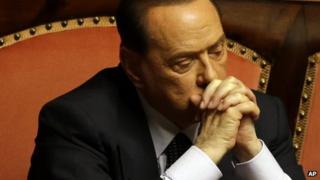 Lawyers for former Italian Prime Minister Silvio Berlusconi are asking the country's top criminal court to overturn his conviction for tax fraud.
Judges at Rome's Court of Cassation are set to decide whether to uphold a one-year jail sentence and political ban.
Prosecutors pressed the panel on Tuesday to cut a ban on public office from five to three years.
The three-time premier and senator faces house arrest or community service rather than prison because he is 76.
The verdict is not expected until Thursday, Italian media report.
Public prosecutor Antonello Mura has asked the five judges to confirm a prison sentence in the case.
He argued that the decision by a lower appeal court in May to uphold his conviction was sound.
When Mr Berlusconi was convicted in October of last year, he was sentenced to four years in prison but this was automatically reduced to one under a 2006 pardon law.
His Mediaset media empire raised the price of film distribution rights artificially high, to avoid incurring a higher tax bill, the original ruling said. Mr Berlusconi was labelled the "author of a whole system of tax fraud".
On Monday Mr Mura surprised many observers by asking the judges to reduce his ban from public office, pointing to a legal technicality.
One of Berlusconi's lawyers, Franco Coppi, said Mr Mura was trying to fix an "error" by the lower court. He said the prosecutor was "trying to defend an indefensible verdict.''
Protest threat
As Mr Berlusconi's centre-right People of Freedom (PDL) party is in Italy's governing coalition, the country faces political uncertainty if his conviction is upheld and he is excluded from participating in political duties.
Many PDL supporters have vowed to hold public protests if the judges do not rule in his favour. Some hardliners even promised to block Italian motorways, the Italian news agency Ansa reports.
A 2010 Italian constitutional court ruling on a statute of limitations opened the way for a string of trials involving Mr Berlusconi.
Appeals are pending in other cases in which he was convicted of having paid for sex with an underage prostitute and arranging for a police wiretap to be leaked and published in a newspaper.
One of Italy's richest men, who built a media empire from his base in Milan, he accuses magistrates from his home city of pursuing a "vendetta" against him.