Catherine Ashton's EU soft power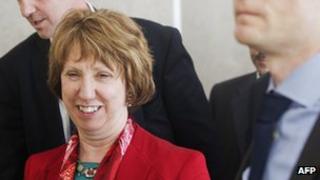 Catherine Ashton is one of Britain's most powerful women and yet passes almost unrecognised. Indeed, I recently observed her stepping off a London-bound Eurostar and not a head turned.
Yet she is the foreign policy chief of the EU, with a large and growing diplomatic staff answerable to her.
On Tuesday she did what no other outsider had achieved since 3 July - she met with deposed Egyptian President Mohammed Morsi. It may not bear fruit, but she has cast herself as a potential mediator between the Egyptian army and the Muslim Brotherhood. Both sides seem to respect her impartiality.
In the almost deserted corridors of power in Brussels - with summer holidays under way - respect for her has edged up. It has not always been that way.
She was not the first choice for the post of EU High Representative for Foreign Affairs.
She was a Labour peer widely judged to be out of her depth. She was ill at ease before the cameras and wary of the media and, early on, chose poor advisers. In the Brussels bubble she was discounted. A very senior German politician said cuttingly that hers was not a name worth remembering.
She was not helped by the fact that the EU did not have a foreign policy. Time and again when the big calls needed to be made it was the big powers that set the agenda. Britain and France used their military power - with a lot of help from America - to oust Libya's Colonel Gaddafi. When it comes to Russia it is the Germans who have the special relationship.
And on matters which relate to their export markets - like China - the Germans scarcely cast a glance at Brussels.
Bumpy start
For some it did not help that Lady Ashton seemed bent on empire-building, assembling an expensive diplomatic service. Some begrudged the expense. Others saw it as a classic Brussels play: get the bureaucracy in place first, and the power and influence will follow.
But Catherine Ashton had supporters. As US secretary of state, Hillary Clinton spoke up on her behalf. Lady Ashton had only modest success in dealing with the Iranians over their nuclear ambitions, but she did much better in the Balkans. Using the bargaining chip of potential EU membership she got the prime ministers of Serbia and Kosovo to agree to normalise relations.
In Egypt she chose to get involved from the start, as protests led to the overthrow of President Hosni Mubarak. She was quick to offer the EU's assistance in sustaining a democratic future. She put in the hours and earned herself the opportunity this week to shuttle between the army and the detained president from the Muslim Brotherhood.
It may not work, but she has become a respected interlocutor at a time when the Americans - certainly in Egypt and Syria - are struggling to define their policy.
Lady Ashton believes in the EU's soft power. She recently said that it "rewards imagination". In Egypt it has earned the EU influence at a dangerous moment.
Late next year Catherine Ashton's time in Brussels will be over. Egypt may lead to a reassessment of her legacy.