Unrepentant Nazi criminal Priebke chills Rome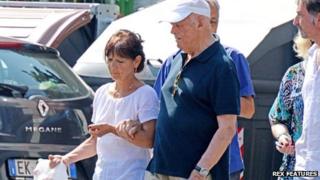 There has been a renewed call in Italy for one of the oldest surviving Nazi war criminals to repent.
It came on the eve of the 100th birthday of Erich Priebke, who has never expressed remorse for his part in a World War ll massacre at the Ardeatine Caves, on the outskirts of Rome.
The former SS officer is actually still in the Italian capital.
He lives under house arrest in what some in the city regard as conditions that are far too comfortable and lenient.
An association representing families of some of the victims of the massacre has called on the ex-Nazi to "find the courage to ask for forgiveness".
The killing of 335 Italian civilians in March 1944 was an act of revenge.
A bomb planted by partisans on a street in Rome had killed 33 German soldiers.
And it is believed that Adolf Hitler himself ordered the murder of 10 times that number of local people.
The victims were rounded up and then taken to the network of caves on the city's southern outskirts, where they were all shot.
The slaughter went on for hours.
And among the officers overseeing it was Erich Priebke.
After the war, he escaped to South America, but was eventually tracked down in Argentina by an American television newsman, and there was a dramatic encounter in a street.
The elderly Priebke, looking like any other pensioner, in a black hat and grey jacket, turned and began answering questions about the massacre.
"Yes I was there," he said. "But that was a thing that was ordered by our [commanders].
"An order was an order... I had to carry it out."
Comfortable life
Priebke was extradited to Italy and sentenced to life in prison in 1998.
But he pleaded that he was too old and sick for jail, and he was soon allowed to switch to a regime of house arrest.
And so today he lives on the top floor of an apartment in a quiet street in a neighbourhood not far from the centre of Rome.
He enjoys a roof terrace, lined with geraniums and shaded by vines.
Priebke is permitted to come and go.
With an escort, he has always been allowed to do his shopping, take strolls in the park, or go out to restaurants in the evening to eat with friends.
No regrets
For some, in this city where the former SS man committed his war crime, his treatment has been too much to bear.
And that is particularly so for members of the Jewish community.
One of its activists, Angelo Sermoneta said: "Jewish Rome, and the whole of the city, can't allow this character to go around his neighbourhood... do his food shopping, and enjoy privileges.
"He is 100 years old. There is no need to hurt him. We're not saying he should face the guillotine, the gas chamber or the electric chair.
"But if only he was at home and didn't make himself seen!
"He awakes in others memories of the evil that he did. And only those who suffered that evil in their lives can understand it."
And among some there is bitter resentment that this former Nazi in their midst has never apologised or asked for forgiveness for what he did.
A lawyer, Sebastiano di Lascio, who speaks for the association that represents families of the massacre victims, said Priebke's attitude had been shocking.
"We never heard, from his mouth or through his lawyers, that he was saying sorry," Mr di Lascio said.
"He could have said 'I was 20 years old, I was young, I wouldn't do it again'.
"But we never, ever heard words or saw gestures of regret."
Mr di Lascio said that while Priebke had managed to live to be 100, his victims, 17- and 18-year-olds among them, had never been allowed to grow old.
"Maybe now, with age, he has thought his experience over," he said. "It's about time he admits he made a mistake and asks for forgiveness."
But Priebke's lawyer, Paolo Giachini, pointed out that in a statement written in 1995, his client had expressed "profound solidarity" with the pain felt by relatives of the victims of the massacre.
And Mr Giachini suggested that nothing more than this was required.
"Our judicial system does not take asking for forgiveness into consideration," he said. "Personal opinions don't count."
Mr Giachini, who actually owns the flat where Priebke stays, said that he became involved in the case in the mid-90s when he thought his client was being persecuted for political reasons.
The lawyer asked why so much attention was given to the massacre at the caves, and so little given to wartime killings by left-wing Italian partisans.