Pussy Riot's Nadezhda Tolokonnikova denied parole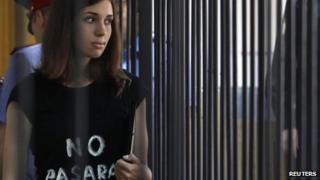 A second member of the Russian punk protest group Pussy Riot has had her application for parole refused.
A court in Saransk ruled that Nadezhda Tolokonnikova had not repented for her crime of hooliganism after singing a protest song against President Vladimir Putin in Moscow's main cathedral.
A similar ruling was delivered against Maria Alyokhina on Wednesday.
Both women are due to be released from their penal colonies next year; both are eligible for parole already.
They were turned down earlier this year, and immediately appealed.
The jailing of the two women and of Yekaterina Samutsevich - who had her sentence suspended and was freed in October - caused outrage worldwide.
Critics accused the Russian authorities of punishing the women for their boisterous protests against the policies of Mr Putin, in the run-up to his re-election as president.
They were convicted of a breach of public order motivated by religious hatred for their performance of Punk Prayer inside Christ The Saviour Cathedral in February of last year.