No parole for Pussy Riot woman Maria Alyokhina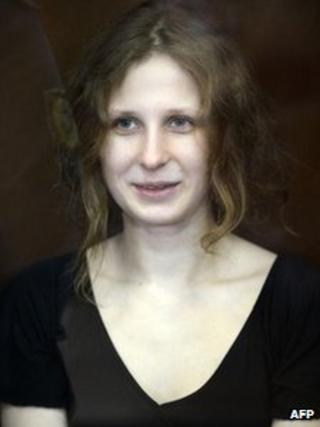 Pussy Riot member Maria Alyokhina has lost a new bid for parole from her two-year prison sentence in Russia.
She had appealed to a regional court in Perm, in the Ural Mountains, after a district court denied the request.
Alyokhina, who has a young son, has served more than a year of her sentence for breaching public order during a protest in a Moscow cathedral.
Another member of the punk group remains in prison, while a third had her sentence suspended last year.
Supporters had hoped Alyokhina's new appeal would succeed, as she had been moved out of her prison colony in the Urals town of Berezniki to a jail closer to Perm, ahead of the hearing.
However, she was not brought to court in the city, more than 1,100km (680 miles) east of Moscow. She addressed the judge via a video link.
The jailing of Alyokhina, Nadezhda Tolokonnikova and Yekaterina Samutsevich, who was freed in October, caused outrage worldwide.
Critics accused the Russian authorities of punishing the women for their boisterous protests against the policies of Vladimir Putin, in the run-up to his re-election as president.
They were convicted of a breach of public order motivated by religious hatred for performing a Punk Prayer in Christ The Saviour Cathedral in February of last year.