Portugal head backs government and rejects snap poll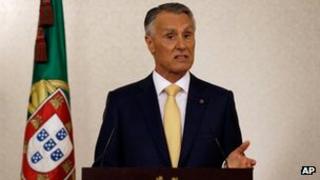 Portuguese President Anibal Cavaco Silva has backed the centre-right coalition government, ruling out snap polls to resolve a political crisis.
He said "the best solution is to keep the current government in power".
This comes after Portugal's three main parties on Friday failed to agree on how to proceed with tough austerity measures.
This raised fears the country would be unable to abide by the terms of its 78bn-euro ($102bn; £67bn) bailout.
Some analysts have even suggested that the debt-laden nation would be forced to seek a second bailout.
Lisbon has had to request a delay in the eighth review of the agreed 2011 bailout by its creditors - the International Monetary Fund, the European Commission and the European Central Bank.
The review was due to start last Monday but has been put back until the end of August or early September.
'Governable country'
In a televised address on Sunday, President Cavaco Silva said: " I think in the current context of national emergency, calling elections is not a solution for the problems Portugal is facing."
He said he had given his support to the ruling coalition led by Prime Minister Pedro Passos Coelho, after receiving solid guarantees that the country would complete the bailout programme.
"It is important to show our European partners that Portugal is a governable country," the president added.
But he also demanded greater efforts to keep negotiation channels open with the opposition Socialists to avoid further political volatility.
Portugal was thrown into turmoil earlier this month when two key ministers resigned in a dispute over the austerity measures.
Foreign Minister Paulo Portas was unhappy with the extent of the austerity measures needed to comply with the conditions by the "troika" lenders.
Meanwhile, Finance Minister Vitor Gaspar - seen as the architect of the austerity plan - quit because of a lack of support for his approach.
The austerity cuts are widely blamed for keeping Portugal in recession over the past two years, angering trade unions and left-wing parties and causing a wave of street protests.