Italian senator refuses to quit over 'orangutan' slur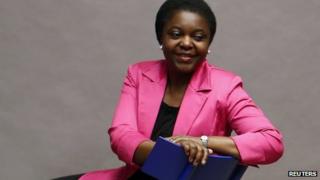 An Italian politician who compared the country's first black minister to an orangutan said he would not quit as vice-president of the senate.
Roberto Calderoli, who represents the anti-immigration Northern League, told parliament he did a "silly thing" and offered to send Cecile Kyenge flowers.
But he said a majority of parties did not want him to step down.
The senator's slur sparked a storm of criticism from political leaders and led to calls for his resignation.
He had told supporters at a weekend rally that photographs of the Congolese-born integration minister reminded him of "the features of an orangutan".
Mr Calderoli also said her success encouraged illegal migrants, and that she should be a minister "in her own country".
Ms Kyenge has accepted a phone apology from the senator but also invited him to "reflect deeply".
'Beyond all limits'
The racist remarks forced Mr Calderoli to explain himself before parliament on Tuesday.
He told lawmakers that he got carried away during his speech and made a "serious mistake" with his "offensive" comments.
"I apologise to everyone", Mr Calderoli said, adding that he would send Ms Kyenge a bunch of roses.
However, he refused to resign from his senate role and insisted he would continue to oppose the government for "encouraging illegal immigration".
Meanwhile, Ms Kyenge told the BBC's Newshour programme that Mr Calderoli and his party had to give some "serious thought" to the "messages they're sending to the broader Italian society".
"What kind of politics do they want to be doing: politics based on insults or politics based on concrete issues?" she asked.
"That's why what he kicked off can't stay between us but has to transcend my personal case."
Ms Kyenge added that Italy was grappling with the fact that the country had its first black minister.
"It's a moment of rupture for the country," she said. "Italy is trying to change at the moment and to take into account the fact that there is another Italy here too."
The racial slur sparked strong criticism from Prime Minister Enrico Letta who said the comments went "beyond all limits" and he offered "full solidarity and support to Cecile".
Sources close to the prime minister told the BBC that Mr Letta did not yet regard the affair as being over.
Mr Calderoli's remarks are not the first time Northern League politicians have directed racial slurs at Ms Kyenge, who moved to Italy from the Democratic Republic of Congo in 1983.
A representative in the European parliament has been forced out of the party grouping for saying that the minister wanted to impose "tribal traditions" on Italians.
And a local politician has been expelled from the party for suggesting on Facebook that someone should rape Ms Kyenge so that she "can understand what victims of atrocious crimes feel".