Italian minister Cecile Kyenge deflects racial slur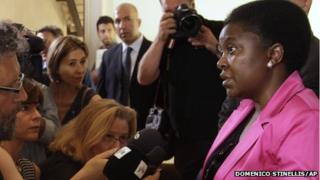 The Italian minister compared to an orangutan by another politician has said she accepts his apology.
Cecile Kyenge, Italy's first-ever black cabinet minister, declined to call directly for Senate Vice-President Roberto Calderoli to resign.
But she invited him to "reflect deeply" about the racial slur. She said politicians speak in the name of citizens and that "words have weight".
Mr Calderoli has phoned Ms Kyenge to apologise for his comments.
Speaking at a rally of supporters at the weekend, he said photographs of Ms Kyenge made him think of "the features of an orangutan".
He said her success encouraged illegal migrants, and that she should be a minister "in her own country".
Mr Calderoli later offered a qualified apology, saying he had meant no offence.
In an interview published on Monday, Ms Kyenge that she did not want to get personal.
"I accept the apology," she told Corriere della Sera . "If there are issues that concern the Congo, Calderoli can ask the representatives of the government, and if it were to be reached, there are the embassy, consulates."
Ms Kyenge added that if Mr Calderoli was unable to express his dissatisfaction in acceptable language he should make way for those who are capable of doing so.
'Beyond all limits'
Ms Kyenge is a doctor who was born in the Democratic Republic of Congo and moved to Italy in 1983, later taking Italian citizenship. She was appointed immigration minister in April.
Mr Calderoli, a former cabinet minister under Silvio Berlusconi, represents the anti-immigration Northern League in the upper house of Italy's parliament.
The politician is under increasing pressure to step down, according to the BBC's correspondent in Rome, Alan Johnston.
Prime Minister Enrico Letta has said Mr Calderoli's remarks were unacceptable and "beyond all limits".
Saturday's remarks by Mr Calderoli are not the first time Northern League politicians have directed racial slurs at Ms Kyenge.
A representative in the European parliament has been forced out of the party grouping for saying that the minister wanted to impose "tribal traditions" on Italians.
And a local politician has been expelled from the party for suggesting on Facebook that someone should rape Ms Kyenge so that she "can understand what victims of atrocious crimes feel".