Portugal president Cavaco Silva rejects early vote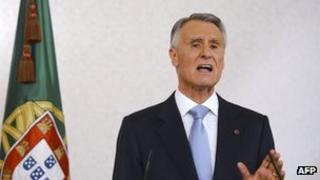 Portuguese President Anibal Cavaco Silva has rejected opposition parties' demands for an early election.
"The current government has all the authority to exercise its functions," he said in a televised address.
He also urged all main parties to reach a compromise that would allow Portugal to see out its bailout period next year without needing a second bailout.
Portugal was plunged into political crisis when the finance and foreign ministers resigned last week.
Vitor Gaspar was seen as the architect of austerity and quit because of a lack of support for his approach.
Foreign Minister Paulo Portas was unhappy with the extent of the austerity measures needed to comply with the conditions set in the 78bn euros ($102bn; £67bn) bailout received in May 2011.
The austerity cuts are widely blamed for keeping Portugal in recession over the past two years, angering trade unions and left-wing parties and causing a wave of street protests.
'National salvation'
On Sunday, Prime Minister Pedro Passos Coelho put together a deal between his Social Democratic party and its junior partner, the centre-right Popular Party (CDS-PP).
In his televised statement, President Cavaco Silva did not give explicit backing to the government reshuffle, which involves CDS-PP leader Paulo Portas coming back into the cabinet as deputy prime minister.
But he said adhering to opposition demands for early elections would be "extremely negative" for Portugal's credibility - which he said had been hit by the finance and foreign ministers' resignations with one year left before the end of Portugal's bailout terms.
He instead urged the ruling coalition parties to put aside their differences and reach a broad agreement with the opposition Socialists on holding elections after Portugal exits the bailout period.
"I will give my firm support to this deal, which in the current context of emergency truly represents a commitment of national salvation," he said.
This was, he said, essential to reduce the risk of Portugal's having to seek a second bailout.
After two years of recession, unemployment stands at over 17.5%, with thousands of more highly educated people seeking work abroad.
The economy is expected to contract by 2.3% this year.