Bolshoi ballet head Anatoly Iksanov replaced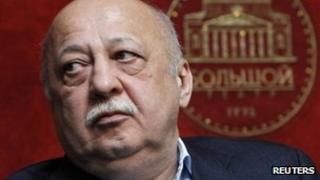 The head of Russia's Bolshoi Theatre has been removed from his post, following a series of scandals including an acid attack on the ballet company's artistic director.
Anatoly Iksanov is to be replaced by Vladimir Urin, the Russian culture ministry announced.
The acid attack on Sergei Filin exposed vicious internal rivalries at one of the world's top ballet companies.
Culture Minister Vladimir Medinsky said the Bolshoi needed "renewal".
"A difficult situation had developed around the theatre and the troupe - everything pointed to the need for renewal," he said.
Mr Iksanov had been accused of mismanaging the Bolshoi's $1bn (£860m) renovation - which ran years over schedule and over budget.
He had also become embroiled in a war of words with dancer Nikolai Tsiskaridze.
Mr Tsiskaridze, a principal dancer and teacher at the Bolshoi, complained of corruption and called for the theatre's entire management to be sacked and for himself to be put in charge.
Mr Iksanov hit back, suggesting Mr Tsiskaridze might have played a role in inciting the attack on Mr Filin, which left him with severe burns to his face and almost completely blinded.
Mr Tsiskaridze has denied having anything to do with the attack, for which three other people are awaiting trial.
But he has been told his contract at the theatre will not be renewed.
Mr Iksanov had been the head of the Bolshoi Theatre for the last 13 years, and had more than a year of his contract to run.
Culture Minister Mr Medinsky said he would still have a role advising his successor, Mr Urin, who has been general director of the Stanislavsky Musical Theatre.
Mr Urin "will be able to unite the troupe and continue the development of the best theatre in the country and one of the best in the world," Mr Medinsky said.
Commenting on his appointment, Mr Urin said "I don't plan any revolutions and understand perfectly that in this theatre, as in any other, one person alone cannot do anything.
"I very much hope that the majority of people working in this theatre - talented, remarkable people - will be my allies," he said.