French PM Ayrault says spy programme claims 'inexact'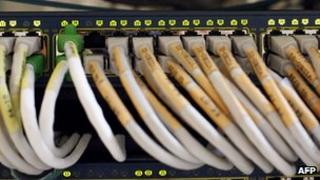 French officials have rejected reports its intelligence agencies are running a vast spying operation on its citizens.
A spokesperson for Prime Minister Jean-Marc Ayrault said the claims in the French daily Le Monde were "inexact".
Le Monde reported that computer and telephone data were being stored on a supercomputer at the offices of the DGSE foreign intelligence service.
The programme operated "outside the law" and could be accessed by all domestic agencies, the paper said.
'Big brother'
"Several services conduct monitoring operations for security reasons," an official from Prime Minister Ayrault's office was quoted as saying by Agence France Presse.
The official said the information could only be accessed "if the prime minister so decided after advice from the CNCIS," the National Commission of Security Interceptions Control.
Le Monde stood by its story on Friday with an editorial in which it said: "Bin Laden has nourished Big Brother".
It said there needed to be judicial and parliamentary oversight "to restrain the immense power the government has acquired over our private lives".
In its Thursday edition, the newspaper quoted an unnamed intelligence source as saying that all communication inside France and between France and other countries was being monitored.
The information is being stored in three basement floors of the Paris building of the DGSE, the French equivalent of Britain's MI6.
The paper alleged that the DGSE analyses the "metadata" - not the contents of e-mails and other communications, but the data revealing who is speaking to whom, when and where.
The operation was designed, said experts, to uncover terrorist cells. But the scale of it meant that "anyone can be spied on, any time", Le Monde said.
There is a continuing international furore over revelations that the US has been systematically seizing vast amounts of phone and web data.
The French government has sharply criticised the US activities, which allegedly included eavesdropping on official EU communications.
The scale of surveillance by America's National Security Agency (NSA) emerged from classified intelligence documents leaked by whistleblower Edward Snowden.
The UK spy agency GCHQ is reported to run a similarly vast data collection operation, co-operating closely with the NSA.