Venice's gondoliers may face breathalysers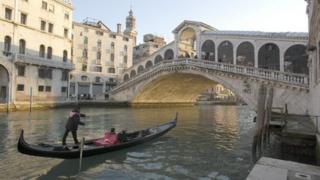 Venice's gondoliers may face drink and drugs tests after reports of boatmen indulging in "inappropriate" behaviour.
Their alleged antics have prompted the president of the gondoliers' association to propose the checks, according to Italian news agency Ansa.
Nicola Falconi said it was important to tackle the "ever-mounting problem".
The issue was brought to a head by a recent "hazing" incident in which a man was filmed stripping and plunging into a canal.
The young Venetian appeared to be taking part in an initiation ritual to become a "ganser" or gondolier's assistant. Footage of his dunking was posted on YouTube but has since been removed.
A statement from the Leftist group on Venice's city council called for the immediate revocation of the licences of the gondoliers involved in the incident.
The councillors added that gondoliers "represent Venice to the world" and as such should respect the "human spirit of Venetian citizenship".
Mr Falconi told Ansa that he would be putting his proposal of random testing to the city council on Monday, and that it would apply to all who operate a craft in the watery city, "from water-bus drivers to ship hands".