Republic of Ireland time zone change considered in parliament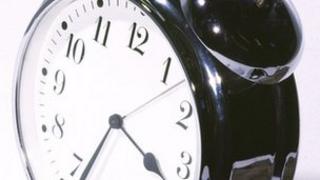 Irish politicians are debating a plan to shift the Republic of Ireland into a different time zone from the UK.
It would bring clocks forward by one hour, bringing the Republic into the Central European time zone.
If agreed, it would mean people travelling between Northern Ireland and the Republic would have to adjust their watches as they crossed the border.
The experimental move is being debated as a private member's bill in the Irish Parliament (Dail) on Friday.
The Brighter Evenings Bill has been brought forward by Dublin politician Thomas Broughan.
He is a member of the Irish Labour Party, the junior partner in the coalition government.
'Bleak winter'
Mr Broughan has proposed the legislation, which would see the Republic undergo a three-year time zone experiment.
If his bill gets support, the clocks would move one hour forward as usual in March, but would not move back in October, bringing the state into line with most countries in Europe.
After the first adjustment, Irish clocks would then move forward and back in summer and winter as usual, but they would do so in line with central European countries, not the UK.
Explaining his bill, Mr Broughan wrote: "Moving the clocks forward would make the evenings in the winter brighter for longer. In effect, we would spend more of our waking lives in the light rather than enduring the current long, bleak winter nights."
He said the proposed change could help the Republic's economy, as brighter evenings would boost tourism and create more jobs in the leisure industry.
'Save lives'
He added it would reduce energy bills, by "maximising available daylight and decreasing peak power demand".
He also claimed brighter evenings could reduce crime and fear of crime, and may even save lives, by improving safety on Irish roads.
The Labour representative argued that the move would facilitate "an improved quality of life with increased time available for exercise and sport in the evening".
Mr Broughan also wants the Irish Justice Minister, Alan Shatter, to "prepare and publish a report on the costs and benefits of advancing the clocks by one hour to allow for brighter evenings".
The bill was first introduced last winter.