Savita Halappanavar: Abusive letters sent to widower Praveen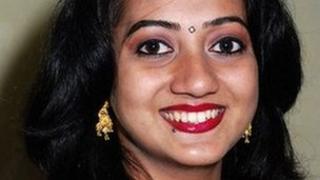 Savita Halappanavar's widower has said he received abusive letters after her death in an Irish hospital last year, in which he was told to leave Ireland.
The 31-year-old Indian national died in a Galway hospital after a miscarriage.
Her family believes she would have survived, had doctors granted her requests for an abortion. They are to sue for alleged negligence.
Praveen Halappanavar told Irish state broadcaster RTÉ he was hurt by the content of letters from "campaigners".
In a RTÉ radio interview, broadcast on Thursday, Mr Halappanavar said he had received abusive correspondence from "different campaigners" but said one in particular "keeps writing again and again".
"Basically, I was told to leave the country. I was told to clean the mess that our country [India] has, rather than cleaning the mess here and to leave stuff for them to clean and mind my own business. It's hurting," the widower said.
'Pain'
He added that he was still finding it very tough to cope with his wife's death.
Ahead of the broadcast, Mr Halappanavar's lawyer confirmed to RTÉ that the family are to launch legal proceedings against the Irish Health Service Executive (HSE).
They are to sue on the grounds of alleged negligence by HSE staff before her death.
In his interview, Mr Halappanavar said they were taking the legal action because they wanted to get to the truth of how his wife died.
He added that the family wanted a full public inquiry, but as it had not happened, they felt that suing the HSE was the "only option" left open to them.
Mr Halappanavar said her whole family wanted to ensure "that no woman has to go through the same pain that Savita had to go through, or no family go through the circumstances that we had to face".
In April, the jury at the inquest into the death of the 31-year-old dentist returned a verdict of medical misadventure.
The Galway hearing concluded the cause of her death was septic shock, after she developed an E coli. infection.
The inquest also found there had been poor communication between staff members, inadequate assessment and monitoring and a failure to follow up blood test results that would have indicated the presence of infection.
Shortly after Mrs Halappanavar's death, the HSE ordered a review into the medical treatment she had received at the hospital.
The review panel published its report last month, which identified a number of failings in the patient's care.
Criticised
The HSE review concluded staff at Galway University Hospital did not adequately monitor her deteriorating condition and failed to "offer all management options to a patient experiencing inevitable miscarriage".
The review team said there was a "lack of recognition of the gravity of the situation" and of the increasing risk to Mrs Halappanavar's health.
It said staff delayed "aggressive treatment" and took a "passive approach" in her care.
The report also said staff did not correctly adhere to existing clinical guidelines related to the management of sepsis and septic shock.
However, Mrs Halappanavar's widower, Praveen, criticised the HSE review and said it did not provide new information or a clear explanation for her death.
"You are not getting to the truth and the HSE report is nowhere near to it," he told RTÉ.
He also said it still bothered him that some of the midwives involved in his wife's care were unable to attend her inquest in April.