Children die in air crash in Russia's Sakha Republic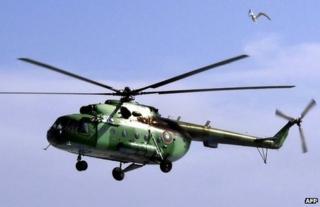 A transport helicopter has crashed into a hilltop in a polar region of Siberia with the loss of 21 lives, including children, Russian media report.
The Mi-8 helicopter came down, reportedly in strong winds, 66km (41 miles) from Deputatsky in the Sakha Republic (Yakutia).
Among the 28 people aboard were 11 children below the age of 12, three of them below the age of three.
Rescuers are said to be approaching on foot, in hilly terrain and darkness.
Details of the casualties were communicated by the helicopter's crew, Russia's Interfax news agency reports.
The Interstate Aviation Committee in Moscow said it had opened an inquiry into the crash, which involved a helicopter flying with Polar Airlines, based in the city of Yakutsk.
'Pressed down'
Rescuers were dispatched on other Mi-8 helicopters in the region while an emergencies ministry jet was sent from the far eastern city of Khabarovsk carrying both rescuers and psychologists.
Darkness, continuing strong winds and the rugged terrain are hindering any approach to the crash site by air.
Rescuers were only able to land 15km from the crash site, regional news website NV Press said, adding that two rescue parties with off-road vehicles had set out.
However, according to Interfax, rescuers were having to travel on foot.
The crash occurred at about 10:40 (23:40 GMT Monday) as the helicopter was flying from Deputatsky to another village, Kazachye.
"The main theory at this time is difficult weather conditions," a regional police source told Interfax. "The helicopter was literally pressed into the slope of the hill by strong, descending air currents."
Three crew members and 25 passengers were on board the helicopter, the Interstate Aviation Committee said.
A list of names of those aboard, published by NV Press, suggests that several family groups are among them. They reportedly include two regional dignitaries.
Helicopters are frequently used for transport between towns and villages in remote parts of Siberia.