Pope Francis sets up commission to review Vatican bank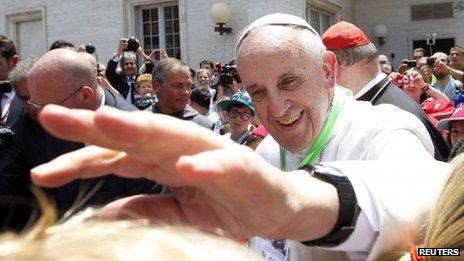 A commission of inquiry has been set up by Pope Francis to review the activities of the Vatican bank, following recent scandals.
Earlier this month, he named a trusted cleric to oversee the management of the bank, which is known officially as the Institute for Religious Works.
The institution, one of the world's most secretive banks, has been beset by allegations of money-laundering.
It has 114 employees and $7.1bn (£4.6bn; 5.4bn euros) of assets.
The new commission is tasked with ensuring the bank operates in "harmony" with the mission of the Church.
It is made up of Mary Ann Glendon, a Harvard law professor, and four senior clerics: Italian cardinal Raffaele Farina, French cardinal Jean-Louis Tauran, Spanish bishop Juan Ignacio Arrieta Ochoa de Chinchetru and US cleric Monsignor Peter Bryan Wells.
On 15 June, the Pope appointed Monsignor Battista Mario Salvatore Ricca as the bank's interim prelate - effectively his representative at the institution.
In February, German lawyer Ernst von Freyberg was named the bank's new chairman, eight months after his predecessor was ousted amid a money-laundering inquiry.
His appointment was one of the last acts of Pope Francis's predecessor, Benedict XVI.
Mr von Freyberg set about instituting checks on the bank's 19,000 accounts, which are mostly held by Vatican employees, charities, priests and nuns.