French police arrest six 'radical Islamists' near Paris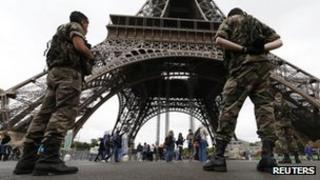 Anti-terror police in France have arrested six people accused of belonging to a radical Islamist cell and preparing attacks in the country.
The suspects, aged 22 to 38, were arrested in the Paris region on Monday.
"They were planning to commit terrorist acts targeting well-known figures in France," an unnamed source told the news agency Agence France Press.
France raised its domestic terror alert level after its intervention in Mali.
The members of the alleged Islamist cell include one man from Benin, another from the Comoros islands and four French nationals, AFP said.
All were previously known to police.
They are reportedly suspected of being involved in armed robberies.
Agnes Thibault-Lecuivre, a spokeswoman for the Paris prosecutor's office, told the Associated Press that the six remained in custody on Tuesday. They can be held for up to four days under France's anti-terrorism laws.
Last October, French police arrested 12 people believed to be part of an Islamist terror cell planning the biggest bomb attack on France since a series of killings by the Algerian-based GIA (Armed Islamic Group) in the mid-1990s.
One suspect was killed as he fired on officers during raids, which followed a grenade attack on a Jewish shop the month before.
France increased its domestic terror threat level after French forces went into action in Mali on 11 January to push back militants who had captured Timbuktu and other parts of northern Mali.