Danish driver Simonsen killed in Le Mans endurance race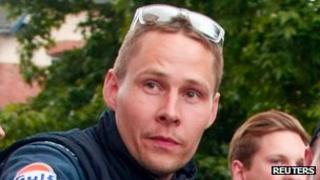 Danish driver Allan Simonsen has died after crashing his car during the Le Mans endurance race in France, the organisers say.
They say the 34-year-old spun off after about 10 minutes of the race in his Aston Martin and hit the safety barriers at the Tertre Rouge bend.
He was taken to the medical centre at the premises but later died of his injuries, the organisers said.
It is believed to be the first death in the 24-hour annual event since 1997.
In a statement on Saturday, the Automobile Club de l'Ouest said: "In a serious condition, Allan Simonsen was transferred immediately to the Circuit Medical Centre where he died soon after due to his injuries."
The organisers expressed their "deepest condolences to the family and those close to Allan Simonsen".
The cause of the crash in western France is being investigated.
Simonsen was participating for the seventh time in the race.
After the crash, the race was stopped for about an hour to repair the barriers.
Two IndyCar drivers tweeted their response to the death.
Helio Castroneves said: "Very sad to know about the fatal accident of Allan Simonsen on Le Mans today. Praying for him and (his) family.''
Tony Kanaan tweeted: "Such a tragic news on the passing of @AllanSimonsen. Sad day in motorsports again. Thoughts and prayers are with his family."
Simonsen's death is believed to be the first in the race since 1986, when Austrian Jo Gartner died after hitting safety barriers head-on at 260km/h (160mph).
In 1997, French driver Sebastien Enjolras was killed during a pre-qualifying session after his car overturned and burst into flames.