Sochi Olympics site worker 'tortured by Russian police'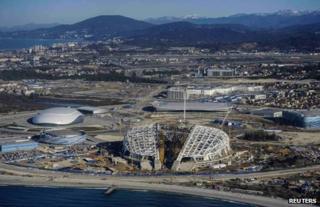 The Russian authorities are investigating reports that an electrician working at a Sochi Winter Olympics site was tortured by police.
Martiros Demerchyan says he was detained and sexually assaulted with a crow-bar after he complained to his foreman that he had been underpaid.
His brother-in-law and fellow worker was also detained and beaten, but less seriously, Russian media report.
Russian police have frequently been accused of violence against detainees.
Two officers were jailed in the Republic of Tatarstan in September after a suspect was mortally wounded while being assaulted with a bottle.
'Beaten all night'
A huge building project is under way in the Black Sea region for the Sochi Winter Olympics, which are set to be the country's most high-profile international sporting event since the Moscow Summer Games of 1980.
Mr Demerchyan and his brother-in-law worked on a residential bloc for Olympic volunteers between 25 March and 16 May.
Each man had been promised 90,000 roubles (£1,780; $2,750) for the work but was given only 37,000, Mr Demerchyan's wife told Russian media.
When they complained, they were first threatened, then called to a meeting with the foreman on 12 June, she said. However, they found police officers there instead, and were taken to a police station, she added.
In custody, they were allegedly told to confess in writing to stealing building materials from the construction site.
Mr Demerchyan's wife said that when he refused, he was beaten all night by five policemen, losing some of his teeth. At one stage, he was assaulted with the crow-bar, she alleged.
He finally signed a blank piece of paper.
Mr Demerchyan was allegedly offered no medical treatment by the police. But on his way to court, he fell ill and police called an ambulance, Russia's NEWSru website reports.
He was treated in hospital, but doctors told his family they had found no serious injuries on his body.
Mr Demerchyan's wife has filed complaints against the police - for assaulting her husband and for failing to provide medical help, the Sochi 24 news agency reports.
A lawyer for Mr Demerchyan said he had worked on similar allegations from others detained at the same police station in the past.
Russia's Investigative Committee - its equivalent of the US FBI - is expected to decide within a month whether to take action against the police officers involved.