Greece's Democratic Left party defects from coalition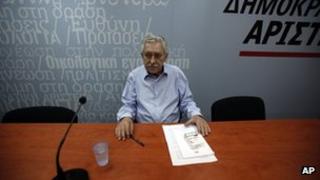 Greece's Democratic Left party says it is pulling out of the coalition government amid a row over the closure of national broadcaster ERT.
The party is the smallest in Prime Minister Antonis Samaras's coalition. It has yet to decide if it will still support the government in parliament.
If it were to withdraw its backing, the two remaining coalition parties would have a majority of three seats.
Earlier, talks broke down on how to resume transmissions at ERT.
The withdrawal of the party will fuel fears of political instability hampering Greece's ability to manage its debt crisis, and leave a coalition that will be seen as far less representative, says the BBC's Mark Lowen in Athens.
The Democratic Left is furious not to have been properly consulted over the decision to close ERT without notice last week to save money, our correspondent adds.
The party had two ministers in a cabinet that also included Mr Samaras's centre-right New Democracy, and the centre-left Panhellenic Socialist Movement (Pasok). It has 14 deputies in the 300-seat parliament.
Court ruling
Officials from all three parties have so far discounted snap elections, which would put at risk reforms required under the terms of a bailout from the European Union and the International Monetary Fund.
"The country doesn't need elections," Democratic Left leader Fotis Kouvelis said in a statement on Friday, after announcing the withdrawal of his ministers from the cabinet.
"The Democratic Left insists on its reform policy and will continue to seek and demand solutions within the European reality."
Amid the political uncertainty on Friday, the interest rate on 10-year Greek government bonds rose to its highest level for several months, while the Athens stock exchange fell by more than 3%.
Mr Samaras justified the closure of ERT by saying it was "a case of an exceptional lack of transparency and incredible extravagance".
The broadcaster's audience share in 2013 was relatively low, at below 20%, but its closure triggered protests across the country.
On Monday, Greece's top administrative court ordered that ERT could resume transmissions.
However, there have been differing interpretations of the court's ruling and its TV and radio stations remain off air.