Depardieu fined in Paris for riding scooter while drunk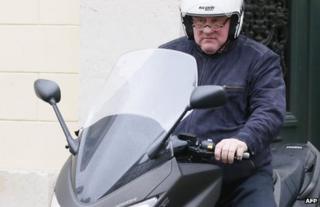 A Paris court has fined French film star Gerard Depardieu 4,000 euros (£3,423; $5,294) and suspended his driving licence for drink-driving.
The actor, who recently made headlines for his erratic behaviour, was not in court for the sentence.
After falling off his scooter in November, he was found more than three times over the legal alcohol limit.
Depardieu, 64, is hailed as one of the finest actors of his generation for films that include Cyrano de Bergerac.
Nobody was hurt in the incident on 29 November, which could have incurred a two-year prison sentence.
The actor's licence was suspended for six months.
Depardieu is currently making a revenge thriller in Russia, where his new film Rasputin is playing at this year's Moscow International Film Festival.
'Sometimes drunk'
Recently, the large-than-life star of Asterix & Obelix has become as well-known for his activities off-screen as on.
Over the winter, he took up residency in Belgium and acquired Russian citizenship in protest at the new French Socialist government's plans to impose a 75% tax rate in incomes above 1m euros.
This month, he said he planned to apply for an Algerian passport as part of a bid to become a "world citizen".
In 2011, he made the news worldwide when he urinated into a bottle aboard an airliner as it prepared to take off from Paris to Dublin.
He has made no secret of his fondness for alcohol.
In an interview with Le Journal du Dimanche earlier this month, Depardieu described himself as "someone who is a bit of a rebel, who shakes things up and who is sometimes drunk".