Deal closer on EU long-term budget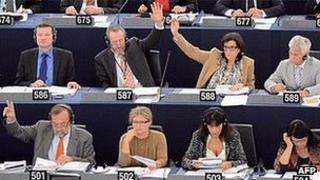 EU ministers and European Parliament negotiators have made progress towards a deal on the EU's long-term budget, but it is not yet clear if a majority of MEPs will back it.
The budget ceiling for 2014-2020 was set at 960bn euros (£822bn; $1.3tn).
That total was agreed by EU leaders in February after the UK and some other countries demanded cuts.
Many MEPs remain unhappy about the cuts. A top Bulgarian negotiator said the deal was "not satisfactory to all".
In a tweet, Bulgaria's Ivailo Kalfin, the lead budget negotiator for Socialist MEPs, said: "We cannot confirm agreement tonight. Need to consult groups."
A parliamentary vote on the budget - officially called the Multi-annual Financial Framework (MFF) - is scheduled for early July in Strasbourg.
The Socialists and Democrats form the second largest bloc, so without their support the budget may not get through. If it is blocked, then spending on long-term EU research programmes and innovation, as well as on projects to tackle youth unemployment, will be delayed.
'Significant' progress
The Republic of Ireland has been steering the budget talks, and its Deputy Prime Minister, Eamon Gilmore, said: "I think this is very significant that we have reached this point of agreement."
Under the deal reached late on Wednesday, some unspent budget funds will be carried over from one year to the next. MEPs had called for transfers of unspent funds from one budget area to another, but the ministers rejected that idea.
The entire MFF will also be reviewed at the end of 2016 and the European Commission will be able to propose changes. That was one of the things that MEPs had requested.
Earlier failure to agree on the MFF had delayed the allocation of extra funding to plug a hole in this year's EU budget. EU governments have pledged an extra 7.3bn euros for that - less than the 11.2bn that the European Commission said was needed.
In February the national leaders agreed to a cut of 3.3% in the MFF, after tough talks which exposed deep divisions in the 27-member bloc.
UK Prime Minister David Cameron pushed hard for the cut, with support from some other countries including Germany, the Netherlands and Sweden.