Profile: Jana Nagyova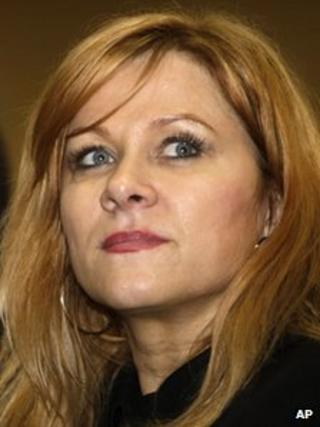 One element that sets the Czech government crisis apart from the usual graft scandal is the flamboyant figure of Jana Nagyova, the woman who until her arrest last week ran the prime minister's office.
Ms Nagyova, who now faces charges of corruption and abuse of office, has long been associated with the Civic Democrat Party (ODS) of outgoing Prime Minister Petr Necas.
Born in 1964, she began her working life as a pay clerk with a machine plant in her home town of Chodov in western Bohemia.
Her involvement with the ODS began in 1996, when, looking for flexible work that she could fit around her childcare responsibilities following her marriage break-up, she found a job in one of the party's regional offices, in the town of Karlovy Vary. During her time there, she also acted as personal assistant to the town's then ODS senator, Vladimir Kulhanek.
Ms Nagyova began her meteoric rise to power and influence in 2005, when she moved to Prague to take up the job of running the ODS's head office. Here she first came into contact with Petr Necas, who was then a deputy chairman of the party.
When Mr Necas was appointed Minister of Labour and Social Affairs in 2006, he made Ms Nagyova his chief of staff. When Mr Necas became prime minister in July 2010, Ms Nagyova continued to be his right-hand woman.
Her organisational skills and her industriousness have long been appreciated by her party bosses. Mr Kulhanek was quoted by the regional paper Karlovarsky Denik as saying that Ms Nagyova was extremely hard-working. Early in 2012, Mr Necas sought to justify his awarding of hefty bonuses to his chief of staff by declaring that "she works like a horse".
However, the extent of Ms Nagyova's influence over her boss soon prompted allegations that she wielded power within the state administration that went beyond the bounds of her job description.
Even members of the prime minister's own party complained that although Ms Nagyova was not legitimately elected, getting on the wrong side of her was not a wise career move.
Czech media have been speculating for some time that the relationship between the dynamic Ms Nagyova and the notably uncharismatic Mr Necas was more than just a professional one, especially after the prime minister separated from his wife earlier this year.
The weekly paper Respekt commented that the power of Ms Nagyova was "in direct proportion to the weakness of Petr Necas".
Questions had also begun to be asked about her dealings with the Czech Republic's powerful business empires.
The Karlovarsky Denik noted that she had played an active role in a local business before her move to Prague, and several national papers, including Mlada fronta Dnes and Respekt, asked if she might not have become more closely associated with powerful business interests than was appropriate for the head of the prime minister's office.
BBC Monitoring reports and analyses news from TV, radio, web and print media around the world. For more reports from BBC Monitoring, click here. You can follow BBC Monitoring on Twitter and Facebook.