Michelle Obama and daughters have pub lunch with Bono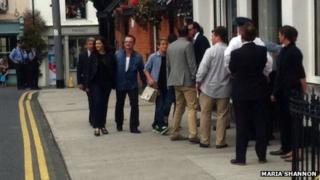 US First Lady Michelle Obama and her daughters Malia and Sasha have had a pub lunch with Irish rock star Bono.
The Obamas ate in Finnegan's Pub in Dalkey, County Dublin, with the U2 singer and his wife Ali Hewson and others.
The menu included smoked bacon and cabbage, cottage pie, salmon and chicken and ham with mozzarella.
The family has now left Ireland, flying out of Belfast International Airport in Air Force One.
Earlier the Obamas visited the 6th Century monastic site at Glendalough, in the Wicklow Mountains National Park.
Malia and Sasha were given a lesson on the ancient ruins by local tour guide George McClafferty.
The valley, in the heart of the Wicklow mountains, is a well-worn tourist path for visitors to Ireland's east coast.
Sasha was given the honour of closing the door to the ruins of St Kevin's Church, which dates back 1,500 years.
The teenager was handed a key and after locking the door, she turned to her older sister and gave her a high five.
Mrs Obama and her daughters were with President Barack Obama when he made a speech in Belfast on Monday morning.
However, they travelled to the Republic of Ireland when Mr Obama went to the G8 summit in County Fermanagh.
Later on Monday, Malia and Sasha Obama were presented with an Irish certificate of heritage at Trinity College in Dublin.
It was presented to them by Henry Healy, an eighth cousin of Mr Obama.
The first lady and her daughters then attended a performance of Riverdance at the Gaiety Theatre, where Mrs Obama also addressed a group of children.
Links to shoemaker
At Trinity, Mrs Obama said it was very powerful to find out that two girls born on the south side of Chicago could trace their lineage back to the 1600s in rural Ireland.
They also viewed the Book of Kells, a 9th Century gospel manuscript, and were shown the birth registry of their County Offaly ancestors.
Earlier on Monday, Mrs Obama addressed the Waterfront Hall in Belfast, as part of the US president's visit.
The visit is the second time Mrs Obama has been to the Republic of Ireland in her role as first lady.
In 2011, she accompanied the president on engagements in Dublin and Moneygall, where they were met by large, cheering crowds.
Mr Obama can trace his maternal great, great, great-grandfather to the County Offaly village.
Falmouth Kearney, the son of a Moneygall shoemaker, emigrated to the United States in 1850 at the age of 19, at the height of Ireland's Great Famine.