Auditors say EU aid for Egypt failed to stop abuses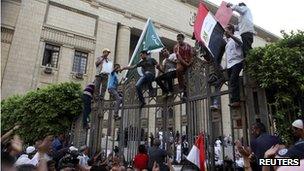 European auditors have sharply criticised EU aid allocated to Egypt, saying it has had little impact on corruption and human rights abuses.
In 2007-2013 the EU sent about 1bn euros (£854m) in aid to Egypt - one of the biggest recipients of EU aid.
They said EU aid to tackle human rights abuses "was largely unsuccessful".
The audit covered the final period of former President Hosni Mubarak's rule and the 2011 Arab Spring uprising which toppled him from power.
"The 'softly softly' approach has not worked, and the time has come for a more focused approach which will produce meaningful results and guarantee better value for the European taxpayers' money," said the ECA's Karel Pinxten, in charge of the auditors' report.
The report said the European Commission and European External Action Service (EEAS), which manage the EU aid allocations, had "not been able to manage EU support to improve governance in Egypt effectively".
"This was partly due to the difficult conditions they have faced in Egypt but also to shortcomings in the way the EEAS and Commission have managed their co-operation with Egypt," it said.
EU aid for promoting human rights in Egypt was "beset by problems", including a lack of commitment from the Egyptian authorities, the auditors said, adding that "the rights of minorities are increasingly under threat".
The Commission and EEAS largely accepted the findings, but said Egypt's continuing political turmoil had delayed progress.
In their comments on the report, they pointed out that since the January 2011 unrest in Egypt, "there has been a slow-down, if not a paralysis, of the decision-making process" at government level and "an increased aversion towards civil society and human rights more broadly".
They said a "completely new situation" had arisen in Egypt, "different from that when the projects examined were designed and launched".
The still "unpredictable environment" in Egypt means that "time is needed to see results" for EU aid programmes, they added.
The leader of the liberal group in the European Parliament, Guy Verhofstadt, called for fundamental change in the EU's aid programme for Egypt.
He criticised the EU for not suspending aid after President Mohammed Morsi increased his powers in November 2012, nor when 43 NGO (non-governmental organisation) workers were jailed. "This inaction by the EU makes a joke of its human rights policy," he lamented.
He warned that the EU must do "much more than repackaging the same neighbourhood [aid] programmes which were in place before the Arab Spring".
"If we do not, then we should not be surprised that the Arab youth become deeply disillusioned by Europe and turn their backs on the EU," he said.
Related Internet Links
The BBC is not responsible for the content of external sites.