French football star's trial for soliciting minor adjourned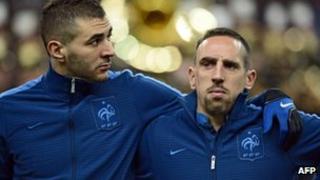 The trial of French footballers Franck Ribery and Karim Benzema on charges of paying for sex with an under-age prostitute has been adjourned in Paris.
After the opening, the judge agreed with defence lawyers that another court must first consider whether the law was too vague to be applicable.
Both stars deny the allegations, and the girl involved has said neither player knew she was not 18 at the time.
Zahia Dehar, now 21, is a household name who has her own fashion label.
Under French law, paid sex with someone under the age of 18 is regarded as sex with a minor - punishable by three years in prison and a 45,000-euro fine (£38,600).
Six other people have been charged over the affair, which broke before the 2010 World Cup in South Africa. Some of them are accused of "aggravated pimping".
Prostitution ring
Mr Ribery and Mr Benzema were not present at the short session in the Paris court.
Defence lawyers for the two footballers had challenged the legal basis for the charges against their clients and the judge later agreed.
The case was then adjourned until January.
Mr Ribery, a Bayern Munich midfielder, escaped his childhood deprivation in northern France to become one of Europe's highest-paid footballing stars, the BBC's Christian Fraser in Paris reports.
He cultivated a wholesome image as a family man, married to his childhood sweetheart, and also as an observant convert to Islam, our correspondent adds.
But in 2010, he and Mr Benzema, a Real Madrid star, were arrested as part of an investigation into a Paris prostitution ring.
Mr Ribery has since admitted he had sex with Algerian-born Zahia Dehar in Munich in 2009, when she was aged 17.
The footballer maintains the 700 euros he paid her, covered transport, hotel and food costs.
Ms Dehar said it was his 26th birthday present to himself.
Real Madrid's Karim Benzema is alleged to have met Ms Dahar in 2008 in a Champs Elysee nightclub and to have taken her back to his hotel where he paid 500 euros to sleep with her.
He denies there was any encounter.
In France, the age for consenting sex is 15, but soliciting a prostitute under 18 is a crime.
Ms Dehar told investigators that neither footballer had known her real age - because she had lied to them.
The state prosecutor had asked for the case to be dropped in November 2009, but the investigating judge said Ms Dehar looked so young that they must have known.
Mr Ribery's lawyer, Carlo-Alberto Brusa, says Ms Dehar travelled across borders for paid sex and knew exactly what she was doing.
"In French law, it's not forbidden to make love to a woman and even to pay her for it, what is forbidden is to do it with a minor," he told the Reuters news agency. "When a woman travels around Europe by plane, can you imagine thinking for one second that she's a minor?"
Following the launch of the high-profile investigation, Ms Dehar became fashion designer Karl Lagerfeld's muse and protegee, launching her own luxury lingerie line.