Man danced around after punch that led to Eugene Moloney's death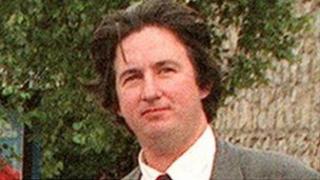 A man danced around after he punched Irish journalist Eugene Moloney in the head leading to his death, a Dublin court has heard.
Gary Burch, 21, of Kennington Close, Templeogue, County Dublin, has pleaded guilty to the unlawful killing on Camden Street in Dublin city centre on 24 June last year.
Dublin Circuit Criminal Court heard Burch had drunk ten bottles of beer and a couple of shots.
He is to be sentenced next month.
Burch told police after the attack that it was a moment of craziness and that he was disgusted by what he had done.
He said he did not help the victim because he was drunk and stupid and did not know how serious it was.
In a victim impact statement on Monday, Mr Moloney's brother Sean said Eugene's death was both senseless and unnecessary in a society where senseless violence is sadly becoming the norm.
Mr Moloney, originally from County Donegal, began his career at the Irish News in Belfast where he reported through some of the worst days of the Troubles in the 1970s and 1980s.
He then moved to the Irish Independent in Dublin where he worked for more than 20 years.