NI investors settle Italian holiday home lawsuit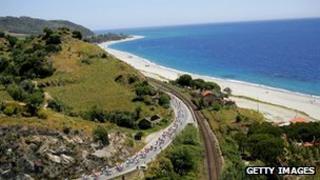 Sixty-six investors from Northern Ireland have settled a £5m lawsuit brought over Italian holiday home purchases in Calabria, southern Italy.
They are due to receive undisclosed damages in a resolution of their claims against a law firm involved in the sales process.
They paid 50% deposits ranging from £30,000 to £150,000 for apartments at the Jewel of the Sea development.
The action was taken against the law firm that handled their deposits.
In the action brought before the High Court in Belfast, the investors alleged professional negligence against Gabriele Giambrone and his firm, Giambrone & Law.
Seized control
They claimed the defendants breached a professional duty to protect their deposits and operated under a conflict of interests.
A judge who was due to hear the case was told that a settlement has been reached.
On that basis Mr Justice Weatherup agreed to stay proceedings.
No admission of liability has been made by the defendants.
Italian finance police investigating an alleged mafia money-laundering operation have since seized control of a number of tourist complexes in the area.
As part of the probe west Belfast man Harry Fitzsimons, 63, whose company was involved in promoting the Jewel of the Sea sales, was reportedly detained in Senegal, west Africa in April.
He denies any wrongdoing.
There was no suggestion made in court that Mr Giambrone or his firm were linked to the Italian police investigation.
The investors' solicitor, Simon Chambers of Russell and Company, confirmed outside the High Court in Belfast on Friday that his clients would be receiving less than they paid put.
He attributed this to "catastrophic" under-insurance by those involved in the sales process.
'Enormous toll'
"My clients' collective claim totalled a sum in excess of £5m," Mr Chambers said.
"They have accepted substantial damages which go some way to compensating their losses.
"This matter has run for four years now and has taken an immense personal, emotional and financial toll on my clients who are relieved that they can now put this sorry chapter of their lives behind them and move on."
He added: "A case of this nature highlights the need to ensure that when purchasing property abroad one should be extremely cautious, especially in circumstances where the property is off plan and has not been built."
The action was the second case involving deposits paid out for holiday homes in the Calabria region.
Earlier this year 13 property buyers from Northern Ireland won a £1m legal battle with Mr Giambrone over apartments in the El Caribe development that were never built.