Three brothers drown in Waterford fishing incident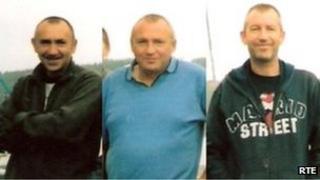 Three brothers have drowned during a fishing trip off the coast of County Waterford in the Republic of Ireland.
Paul, Kenny and Shane Bolger from Passage East in Waterford died after their 19ft fishing boat capsized outside Tramore Bay on Wednesday.
Paul, 49, was a father-of-one, his 44-year-old brother, Shane, had two young children and their 47-year-old brother, Kenny, was single.
Their upturned vessel was spotted in the water.
Waterford and the Tramore and Dunmore East lifeboats took part in a search operation.
A spokesperson said that winds were strong and there was a heavy swell at the time.
Coastline
Eugene Clonan from the Irish Coastguard said the three men had gone out lobster fishing on Wednesday morning but failed to return.
He said it was unclear, at this stage, what had happened.
"These guys were experienced fishermen. The water wasn't too bad. They took their precautions.
"They were all wearing lifejackets. It is a tragic event for the local community," he said.
The Waterford rescue helicopter recovered one of the casualties and the Dunmore East lifeboat recovered the remaining two.
All three bodies were found about 500 metres from the coastline.
Post-mortem examinations are due to take place on Thursday.