Italian senator Gambaro rebels against Beppe Grillo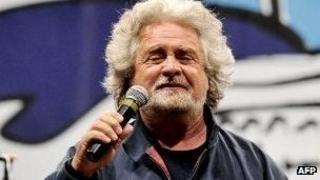 Tensions within Italy's protest Five Star Movement (M5S) have deepened after a senator launched a forthright attack on leader Beppe Grillo.
Adele Gambaro, who was elected for M5S to parliament in February, blamed Mr Grillo for the movement's poor showing in recent local elections.
Mr Grillo hit back in a blog post, inviting her to leave M5S.
Ms Gambaro is the latest party figure to criticise Mr Grillo, who has been accused of stifling alternative views.
"The problem with the movement is Beppe Grillo," she said, singling out the former comic's no-holds-barred blog postings for particular criticism.
"We are paying for the tone and communications of Beppe Grillo, his threatening blog posts, especially those attacking parliament," Ms Gambaro said.
Mr Grillo replied: "Senator Adele Gambaro has made false and harmful statements against me... which have damaged both me and the Five Star Movement... I invite her to leave the M5S as swiftly as possible."
The row is the latest sign of troubles within Five Star, following its breakthrough in the general election, when it won a quarter of the national vote.
It has since suffered a rout in local elections in May and June, failing to win any of the 564 towns and cities that voted.
In a recent blog posting Mr Grillo, who did not stand in the elections and thus does not sit in the elected chamber, said parliament was useless because Prime Minister Enrico Letta's right-left coalition government was making policy without consulting legislators. Five Star is the main opposition force.
"Parliament could close tomorrow and no-one would notice," he wrote. "It's an empty can of tuna."
Split in offing?
Last week two Five Star MPs quit the movement and also criticised its leadership.
"Decisions have been forced on us from above in the past few months and this broke the trust that had tied us all together in the same dream," said a statement from one of the MPs, Vincenza Labriola.
There have been repeated media rumours of impending Five Star defections since a group that included the pair rebelled against the leadership's orders to hand back a portion of their parliamentary expenses.
The two defections and an expulsion earlier this year of a senator who defied Mr Grillo's veto on appearing on TV talk shows leaves the movement with 107 lower-house deputies in the 630-seat chamber and 53 members of the upper house out of a total of 315 senators.
Italian newspaper reports on Wednesday said the movement could be facing a split and speculated that up to 30 to 40 Five Star MPs could be ready to leave.
BBC Monitoring reports and analyses news from TV, radio, web and print media around the world. For more reports from BBC Monitoring, click here. You can follow BBC Monitoring on Twitter and Facebook.