Voices of Turkey's Taksim Square protesters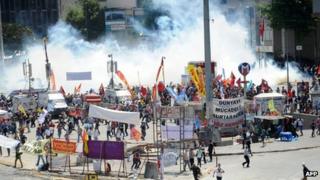 Turkish riot police moved into Taksim Square in Istanbul on Tuesday morning to clear a protest camp which had been occupied for almost two weeks.
Many protesters have fled the square into adjoining Gezi Park, where demonstrators have also been camping. Plans to redevelop the park sparked the original protests, which have since mushroomed into a national anti-government protest movement.
BBC News has been speaking to some eyewitnesses from Istanbul about the morning's events.
Timur Karadeniz, protester
The area where I am is relatively peaceful compared with the other side of Taksim Square. There is a peaceful chain of people facing police right now.
But the other side is full of tear gas and pepper spray. There are clashes going on between police and a marginal group of people, 10 or 20 maybe. We don't know whether they are protesters or part of the police force, there's lots of tear gas in that area.
We don't believe that they belong to the protests, which have been very peaceful since day one. They are trying to provoke the police but the police response is very, very harsh.
The group of people on my side are trying to surround the park so that the police won't enter, which they have promised not to do. There is lots of tear gas reaching us as well because the police are firing tear gas rounds indiscriminately. The crowd has surrounded some of the water cannons and is not allowing them to move.
Gumita Kenarov, journalist
I'm at Gezi Park, everything's fine here for now but all around it there are riot police using tear gas and water cannon. They have told protesters that they are safe as long as they stay in the park.
They're trying to clear the barricades in the side streets, that's where most of the fighting is going on. Protesters are throwing stones and slingshots, and police are shooting tear gas back at them.
To begin with they [the police] were pretty restrained and not using that much tear gas but now the whole area in front of Gezi Park is filled with tear gas. We still don't know what their intentions are exactly.
Baram, protester
We woke up at around five o'clock this morning. People were trying to sleep, it was the hardest time for us to protect ourselves and the police attacked. We were trying to protect our banners from the policemen. But they pushed us back.
They announced to us that they would not attack Gezi Park, but they have. I think they used rubber bullets. There are a lot of police, maybe more than there are of us even, I'm not sure.
There are a lot of doctors here who are trying treat those who have been hurt. I think the prime minister is trying to push us. We still want to talk to the government but they don't listen to us, they don't care about us.
Elida, protester
We don't trust the government any more because they have said so many things but they didn't do any of them. We were here to protect the park, but now it's not just about the park.
'Emel', protester
What's taken place in Taksim Square reveals several things. First of all, it's been said that there were men with masks throwing Molotov cocktails towards the police. As much as this sounds suspicious already, we should not lose perspective: when there's no police, no such violence occurs.
And I should also note that it was said that there was a heavy undercover police presence in and around the park during last week. We don't know who these people are. The fact that they are masked and they suddenly appear when the police come is suspicious.
The fact that the square has been "cleaned" means the prime minister wants to clear any large groups before his own planned counter-rallies this weekend. This is an attempt to deliver on his promise that where the protesters gathered 20, he would bring out 200,000.
The government will choose the route of dividing and ruling the movement, this has been the case from the get-go as they've tried to put the movement in a descriptive box and they have designated themselves who they would meet.
After this attack, I don't know [if there is a point to dialogue]. There needs to be dialogue but there need to be ground rules and they shouldn't be able to do what they want. Also, though the situation in Istanbul had quietened down for a some days and people were gathering peacefully, the police violence in other cities like Ankara and Izmir had been continuing throughout.