Rome election: Left's Ignazio Marino ousts right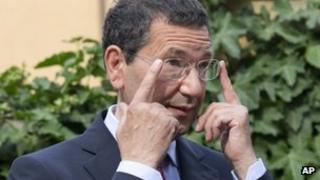 Italy's centre-left has captured the office of mayor of Rome, in a boost to Prime Minister Enrico Letta.
Ignazio Marino ousted the incumbent, Gianni Alemanno, a centre-right ally of former PM Silvio Berlusconi, with about two-thirds of the vote in a run-off.
The turnout figure in Rome was very low at about 45%. Run-offs were also being held in other parts of the country.
The contests are mainly between centre-left and centre-right as the Five-Star protest group had a poor first round.
Mr Alemanno admitted defeat in Rome and evaluated the result as "not positive" for Mr Berlusconi's People of Freedom party.
The party is a partner in Mr Letta's national coalition government, which was cobbled together after two months of political deadlock following an inconclusive general election.