Sweden's Arriva lifts shorts ban for skirt-wearing drivers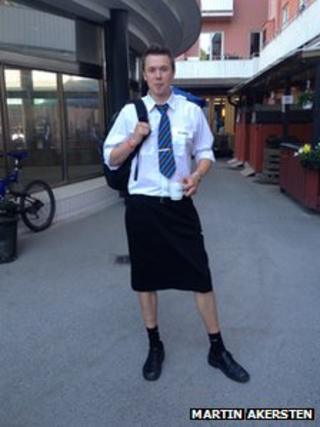 A group of Swedish train drivers who began wearing skirts to work as a protest against their employer's ban on shorts is celebrating after the company said it was dropping the policy.
The dozen drivers on the Roslagsbanan line, north of Stockholm, have worn skirts to work for the past two weeks.
Arriva had said they were welcome to do so, as long as they looked "decent".
But it later said it had listened to its staff and that the new shorts should be available this summer.
"We received so many suggestions from our staff, and we listened to them and decided to change our minds on this issue," said spokesman Tomas Hedenius.
"We're talking to the union and looking at how to do this. Our aim is that they should receive the shorts this summer."
But he told Radio Sweden that if the drivers wanted to carry on wearing women's clothing "then that's up to them".
The drivers had complained that in summer, temperatures in their cabins can reach 35C, and that they had decided to wear skirts - which their female colleagues are allowed to wear - "for comfort".
Driver Martin Akersten told the BBC on Saturday: "The passengers stare at us but so far no-one has said anything - well, not to me, anyway. And I don't mind as it's more about comfort."
On Monday, he told Swedish newspaper The Local he was surprised by the huge international response the skirt-wearing had generated, but that the publicity had definitely helped.
"It feels really strange to think that it just started out as a small thing in my local newspaper and now it's gone out into the global media... it's a crazy feeling," he said.
"I'm not going to miss the skirt though, I like shorts - that's the whole reason I started this thing."