Turkey PM Erdogan warns protesters of 'limited patience'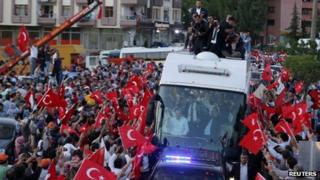 Turkish Prime Minister Recep Tayyip Erdogan has warned his patience "has a limit" as anti-government protests continued for a 10th day.
Mr Erdogan dismissed the protesters as "looters", in a defiant address to supporters in the capital, Ankara.
Thousands of protesters gathered in Istanbul's central Taksim Square and Ankara's Kizilay Square on Sunday.
The anti-government unrest was sparked by a police crackdown on a local protest over an Istanbul park.
The initial protest has since spiralled into nationwide demonstrations, with protesters accusing Mr Erdogan's government of becoming increasingly authoritarian and trying to impose conservative Islamic values on a secular state.
For a second night in a row, riot police fired tear gas and water cannon to disperse the demonstrators in the centre of Ankara on Sunday.
"If you look in the dictionary, you will see how right a description this is,'' Mr Erdogan said addressing cheering supporters as he arrived at Ankara airport. "Those who burn and destroy are called 'capulcu' (looters or vandals). Those who back them are of the same family.''
"We remained patient, we are still patient but there's a limit to our patience," he continued.
The prime minister also told supporters to prepare for pro-government rallies in Istanbul and Ankara next weekend, Reuters news agency reports.
'Restraint'
As Mr Erdogan spoke, some of the largest crowds gathered in Istanbul's Taksim Square - near to where the original protest took place over the planned demolition of a park.
As well as two nights of unrest in Ankara, clashes reportedly erupted on Saturday in the southern city of Adana, between pro-Erdogan supporters and anti-government protesters.
In a statement on Sunday, EU foreign policy chief Catherine Ashton urged the need for restraint on all sides.
"Open and sustained engagement of the authorities is essential to reinforcing democracy, building confidence and avoiding escalation," she said.
The nationwide protests were sparked by claims of police brutality against an environmental protest over plans to redevelop Gezi Park, near Taksim Square.
However, the prime minister has vowed to push ahead with the redevelopment of the park, a rare green space in Istanbul's densely built-up core.
He has also ruled out early local and presidential elections, saying they would go ahead next year as scheduled.
Four people - including a police officer - are reported to have died, thousands have been wounded and hundreds arrested in the unrest which began on 31 May.