Swiss back tighter asylum rules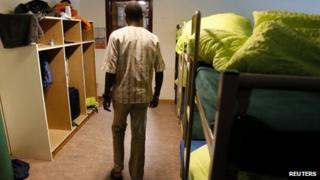 Swiss voters have overwhelmingly backed a controversial move to tighten asylum restrictions amid a spike in the number of refugees in the country.
Almost 80% of voters approved changes made to the asylum law last September, final results of a referendum said.
Under the new rules military desertion is no longer a reason for granting asylum, and people cannot now apply through Swiss foreign embassies.
About 48,000 people are in the process of seeking asylum in Switzerland.
The BBC's Imogen Foulkes, in Geneva, says Switzerland has a long tradition of generosity towards asylum seekers - its proportion of refugees per head of population is twice the European average.
But the number of asylum seekers is rising sharply and is at its highest in a decade.
That, coupled with sharp rises in immigration overall, has led to public concern that too many people are coming to Switzerland, our correspondent says.
'Economic reasons'
Human rights groups and left wing parties gathered enough signatures to force Sunday's referendum, in a bid to get the government measures withdrawn, warning that they could lead to discrimination.
Speaking after the result, the groups described the outcome as "a disaster for asylum seekers and refugees" that left "no winners".
One of the most controversial changes was the removal of military desertion as a valid reason for asylum.
Desertion is the key reason cited by Eritreans -the largest group of applicants last year - whose country imposes unlimited military service on all able-bodied men and women.
The result also removes the provision - unique in Europe - that enabled asylum seekers to claim asylum in Swiss embassies around the world.
Celine Amandruz of Switzerland's largest party, the populist Swiss People's Party (SVP), however welcomed result, telling AFP news agency that that nine out of 10 people who sought refuge in the wealthy country did so "for economic reasons".
"There is clearly a need to change this system," she said.
Switzerland counts one asylum seeker for every 332 inhabitants. The European average is one asylum seeker for every 625 inhabitants.