Boyne bridge re-named after former Irish President Mary McAleese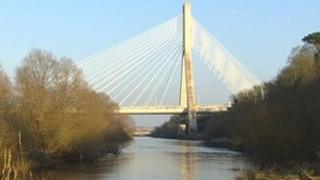 A ceremony has been held to re-name a bridge on the M1 motorway near Drogheda to honour former Irish President Mary McAleese's contribution to the Northern Ireland peace process.
The bridge which spans the River Boyne will now be known as the Mary McAleese Boyne Valley Bridge.
Councillors in Louth and Meath voted on the name change last year.
At her inauguration and in her 1997 presidential campaign Mrs McAleese promised to be a bridge-builder.
Mrs McAleese said she hoped it would inspire others to continue to work for peace.
"People will continue their everyday lives going across that bridge where ever they're going, opening up that big beautiful landscape of the Boyne Valley," she said.
"I hope that when they see the name and they see the little memorial stone, that something will click in their brain and say, 'today's the day I have to remember that in everything I do, and in everything I say, I have a responsibility to keep building this peace for my children and my children's children'."
The event was attended by former paramilitaries, politicians as well as representatives for various unionist groups such as the Orange Order and Royal Black Preceptory.
Deputy First Minister Martin McGuinness said both Mrs McAleese and her husband Martin had made an "invaluable contribution" to the success of the peace process.
UDA leader Jackie McDonald also attended the ceremony.
"I look back on the last 11 years and the work with did with Martin, really helping Mary," he said.
"I think it's fantastic, I think it's a fitting tribute to Mary."
The decision to re-name the bridge was proposed by the Fine Gael senator from Dundalk in north Louth, Jim Darcy.
The iconic bridge on the Belfast to Dublin motorway is located near the historic Battle of the Boyne site.
The motorway structure, officially called the Boyne Cable Bridge, joins Counties Louth and Meath.