Will Istanbul's protesters have the last laugh?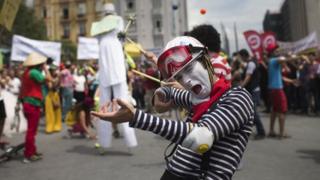 Revolutions take commitment and determination. Revolutions are often messy and confusing. But in today's digital age of iPhones, citizen journalism and self-made producers, revolutions can also be funny.
While the atmosphere in Istanbul's Taksim Square has changed dramatically from music festival by day to frontline fight by night, there has been a constant throughout: the endless jokes about an elected prime minister who is seemingly out of touch with a large portion of his nation's youth.
Istanbul's anti-government protesters have inhaled tear gas and faced water cannon, but they are still laughing all the way to Gezi Park, the symbolic centre of the demonstrations, which have now spread to at least 60 cities across the country.
"We have witnessed incredible things that have left us psychologically traumatised, and although we are determined to win, we may actually lose this revolution because of laughter," said Fatih, a graphic designer who clashed with police overnight earlier in the week.
Gezi Park 'for sale'
In the past two years, Turkey has become known for a crackdown on freedom of speech and is well-documented for jailing one of the highest numbers of journalists worldwide.
No surprise then that once the liberals broke their silence over how they felt about Prime Minister Recep Tayyip Erdogan's conservative views and policies, an explosion of expression followed in the form of satire, irony and outright mockery of the popular leader on Istanbul's streets and social media.
Turkey's answer to Ebay, Sahibinden.com, became Tayyibinden.com where Gezi Park is now up for sale. The advertisement reads:
"A place far from the hustle and bustle of the city, but in the heart of downtown. It's an ideal space for the family. You can use it comfortably. With planning permission for shopping mall. Ten steps from Taksim Square with road access. Special subway entrance. I'm selling it because I'm no longer interested in it. Sun from four sides. Includes activities."
Protesters also placed an ad, in which a water cannon is for sale, poking fun at the police: "The water cannon we took from our dear state two days ago is for sale. Hardly used. It has a capacity of spraying 1,000 police offers in one hour."
It continues: "Painted with words on it that I can't say here. Includes a bonus, police uniforms are inside. Includes a smoke machine. We are selling it because we are upgrading to the next model. Price: you can ask the media, they know the true value."
'Riffraff' phenomenon
A slogan that has become synonymous with the protesters who describe themselves as "a civil resistance", is the word "chapulling', which literally translated means "bumming around".
The word was coined in reaction to Mr Erdogan's comments describing the protesters as "calpucu", or "riffraff", before he left on a trip to North Africa earlier this week.
The remarks have spawned an entire chapulling phenomenon, one that even has a Wikipedia definition and a video explaining how to use the word.
At the end of the video, the capuller says: "If you don't want to watch a documentary on penguins and know what's happening in Taksim, you should learn English" - a reference to the lack of media coverage on Turkish television.
It's not only the protesters poking fun at Turkey's tough leader. The latest Economist cover illustration depicts Mr Erdogan as a sultan holding a gas mask in one hand and prayer beads in the other.
A photo directed at Mr Erdogan's supporters, who flocked to Istanbul's Ataturk airport to welcome him back, was making the rounds of Facebook on Friday morning.
It showed sheep standing in the headlights behind a barricade. The prime minister's defiance was on display as he spoke to the crowds at 2:00 local time (12:00 BST), and although protesters are able to laugh, they say the business of revolution is a serious one.
"I would rather be ignored than insulted," said Sevil, a young professional strolling through Gezi Park.
It is a sentiment that may explain the need for humour by a group of people who have ironically grown up in Mr Erdogan's open democracy.