Turkey protests: Erdogan support still strong elsewhere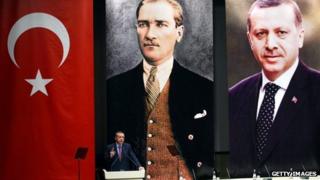 It may be tempting to conclude from the demonstrations in Taksim Square and Gezi Park that the entire country is against Turkey's Prime Minister, Recep Tayyip Erdogan.
That impression is reinforced at night when residents in nearby neighbourhoods stand at their windows to clang their pots and pans in support of the protests. But away from the square and the park, there are other views.
The neighbourhood of Uskudar is a ferry ride across the Bosphorus. From Istanbul's Asian shore, the demonstrations feel a long way away. In Uskudar there have been no large-scale protests. Next to the ferry port, shoe shiners bang their brass stalls to try to attract customers.
Over the last decade, this district has been redeveloped by the prime minister. His government is renovating a mosque. It's also building a tunnel to connect the metro to this side of the Bosphorus. Not far from here, Mr Erdogan proposes further redevelopment in the hope of getting the 2020 Olympic Games.
In Uskudar's market, the prime minister has both supporters and critics. Outside a fish stall, a handful gather for a conversation.
"No-one is infallible," says a man who works in the tourism industry. "Erdogan has some good policies, and some bad policies. 90% of what he does is good for the country. There are people that love him and people that hate him. People shouldn't burn police cars, throw stones."
"Erdogan is the only leader there is," insists another man. "He's the greatest leader in the world after [Turkey's founder] Ataturk. The police don't attack people if they're doing nothing. What is the job of the police ? To protect people."
An older man sees the conversation and walks straight over to make his point.
"Tayyip Erdogan is a dictator and I've had enough of him," He doesn't care about our founder Ataturk or the republic. He's tried to get rid of our republican identity. The public is fed up with him. They've had enough. Tayyip is not good for this country."
The others let him speak. The differing opinions in Uskudar haven't provoked demonstrations or unrest. No-one here suggests the prime minister's position is under threat. But for the first time, his future as Turkey's leader is the subject of open debate.