Hollande wins Unesco peace prize for Mali intervention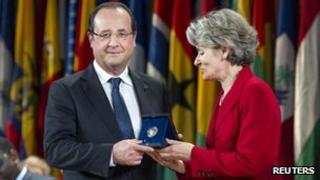 France's president has received a major prize from the United Nations' cultural organisation for his decision to send troops to Mali in January.
Francois Hollande was awarded the annual Felix Houphouet-Boigny Peace Prize by Unesco at a ceremony in Paris.
The president of the jury praised Mr Hollande for the "solidarity shown by France to the peoples of Africa".
The decision was criticised by some human rights groups, who noted the continuing unrest in Mali.
Earlier, the Malian army said its soldiers had clashed with Tuareg separatists near the northern town of Kidal, killing several rebels.
'Solidarity'
The Houphouet-Boigny prize, created in 1989, is intended to honour people that have made a significant contribution to peace and stability.
Other winners include former Irish president Mary Robinson, South Africa's former leader Nelson Mandela and the first president of East Timor, Xanana Gusmao.
President Hollande was presented with a diploma, a gold medal and a cash prize of $150,000 (£98,000, 115,000 euros), which he will reportedly donate to two relief organisations working in Mali.
Joaquim Chissano, president of the deciding jury, said: "Having assessed the dangers and the repercussions of the situation on Africa and on Mali in particular, as well as on the rest of the world, the jury appreciated the solidarity shown by France to the peoples of Africa."
Mali's President, Dioncounda Traore, thanked Mr Hollande and referred to the "humiliation" suffered by people living in the north of of the country before the French troops arrived.
Benin President Thomas Boni Yayi meanwhile told the news agency AFP: "If France had not intervened, where would we be? God alone knows."
'Cynical' decision
France has begun to withdraw some of its 4,000 troops from Mali after driving Islamist groups from the main towns and cities of the north.
It plans to gradually hand over to the Malian army and a UN peacekeeping force before presidential and parliamentary elections are held.
But tensions remain between the Malian authorities and the National Movement for the Liberation of Azawad (MNLA), which is fighting mostly for the rights of the minority Tuareg community. There have also been attacks from Islamist militants hiding in the mountains and desert of the north.
Mireille Fanon-Mendes-France, president of human rights organisation Fondation Frantz Fanon, told the BBC that the decision to award Mr Hollande the Houphouet-Boigny prize was "cynical", pointing to unresolved issues in Mali.
The choice of recipient was perceived by some to be both cultural and political, reports the BBC's Catherine Zemmouri in Paris.
The prize is named after Felix Houphouet-Boigny, a politician who served in the French government before becoming the first president of the Ivory Coast and playing a leading role in the decolonisation of Africa.